経験に基づく確かな企画力・メディアリレーション力で、
質・量ともに高いアウトプットを実現
2001年に創立したワイズコミュニケーションは、20年間にわたり、
化粧品やビューティ関連の様々なブランド、およそ70社のPR活動、
コンサルティングを行ってきました。
特に美容におけるPRの鍵となる雑誌やWEB媒体に関して、
会社創立以前からの代表の強いリレーションで、会社の財産でもある
美容編集者や美容ライターとの強いネットワークを通して、
広く且つ深いメディア掲載を実現しています。
We will achieve the best PR outcomes for beauty products with our insight-based planning capability and media relationships backed up by our extensive experiences.
Established in 2001, Y's communication has been offering Public Relations and brand consulting services for more than 70 beauty brands over the past 20 years.
We have excellent credentials for media exposures through our strong relationships with magazine publishers and beauty web media in particular working together with our valuable assets of key editors and beauty writers.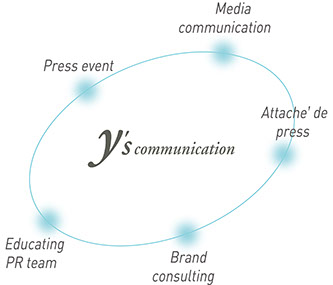 Copyright © 2001-2015 Y`s communication.Inc. All Rights Reserved.